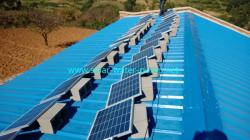 General Product Information:
1.solar modules
The solar modules is made of high efficiency solar cell, which is made by the international advanced equipment from Germany ,Italy and USA, The efficiency of solar cell can reach 17%,the assemble material with low-ironglass named EVA and, TPT is from SPIRE company, USA. Because the glass is high transmissibility and mechanical intension, backboard is good airproof, the maximum service life can reach 25 years ,the pole cable adopt the ormolu cincture, which ensure the low resistance, when high current pass. It is good for power output.
2.solar charge controller
Solar charge controller is one of the most important components in the solar power generation system. It will affect the service life of the system directly, especially the batteries. In any case, overcharging or over discharging to the battery will shorten its service life.
3.off-grid Inverter
The off-grid inverter is specially designed for new energy generating system, with all advantages of conventional inverters. it is applicable in mouhtainous pastoral area, border and islands, etc. lack of electricity and transportation. owing to its reliability, if especially. saver time and st of maintenance. The light efficiency of inverter promises this reduction of the capability of solar panels and therefore the savings in the investment The inverter can be used for loads (including fan, refrigerator, air-condition. water pump electric motor) Full automatic intelligent switch. Output short circuit protection, when there is short circuit; the inverter will indicate it and lock the machine automatically. Overload protection .When there is overload ,the machine will prompt you and delay lock machine automatically to protect the inverter from being damaged.
4.PV array combiner box:
For large scale PV systems, a DC combining device will be installed in between the PV arrays and the solar controller to increase the reliability and stability, and also for the ease of maintenance. Based on the DC input voltage range of the inverter, a quantity of the same PV strings can be connected to form a PV array. Then different PV arrays can input into the PV array combiner box, which including lightning protection devices and circuit breakers, to output a DC current for the solar controller connection.
5.Monitoring system(optional)
This solar powered generator is developed to provide a common platform to record and analysis the data acquired from inverters for pv systems. User-friendly interface, powerful analyzing capabilities, excellent fault alert system make it the best system for PV
Marketplace:
| | |
| --- | --- |
| Country: | China |
| Delivery Time: | 7 |
| Price: | 200 |
| Quantities: | 1 |
| Type: | Selling Offer |
Return to overview