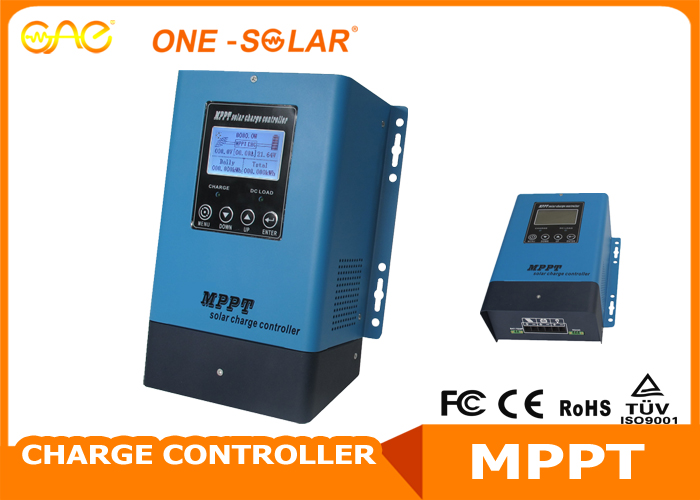 Material:
Metal
Size:
295*224*100mm
General Product Information:
Super High efficiency MPPT Solar Charge Controller 12V / 24V / 48V Auto 30A - 60A
Model : MP-60
Main Feature Advantages:
;Charging pattern: MPPT automatic maximum power point tracking
;Overall effective protection function:
Low-voltage protection
Over-voltage protection
Over-temperature protection
Over-charge protection
Over-discharge protection
Short circuit protection
Reverse connect protection
Over-load protection
;High reliability under any ambient conditions
;12V/ 24V/ 36V/ 48V automatic recognition
; LCD Display Multi-level Menu; Intelligent Button Settings
;RS232/RS485 Real-time Communication optional
;Intelligent chipset microcomputer control, strong adaptability, reliable function.
;With high precision temperature detection and compensation circuit, longer battery life, good to loads.
Main datas:
ModelMP-20AMP-30AMP-40AMP-50AMP-60ACharging modeMPPT automatic maximum power point trackingCharging methodThree stages: Constant current charging(MPPT), Equalizing charging, float chargingSystem TypeDC 12V/24V/36V/48V, automatical recognition / manual settingVoltage recognition range9-15VDC (12V) / 18-30VDC (24V) / 27-45VDC (36V) / 36-60VDC (48V)Static power consumption≤2WOverall transfer efficiency≥, ≤99%PV module utilization≤99%
Input And Output paramters:
InputWorking voltage range18-150VDC (12V) / 34-150VDC (24V) / 49-150VDC (36V) / 65-150VDC (48V)Low battery protection≤16VDC (12V) / ≤30VDC (24V) / ≤45VDC (36V) / ≤60VDC (48V)Low battery resumption≥18VDC (12V) / ≥34VDC (24V) / ≥49VDC (36V) / ≥65VDC (48V)High battery protection≥150VDC (12V / 24V / 36V/ 48V)High battery resumption≤145VDC (12V / 24V / 36V/ 48V)Maximum input voltage160VDC (12V / 24V / 36V/ 48V)OutputRated current20A30A40A50A60ACurrent-limiting protection22A32A42A52A62ATemperature coefficient±℃ (12V / 24V / 36V/ 48V)Auto temperature - (Max. Temperature - 25℃) * voltage stability accuracy≤±
Warranty: 2 Years
Our MPPT solar charge controller and pure sine wave inverter product warranty is valid for 24 months after delivery. We undertake to repair any malfunctioned units due to defective components of inadequate workmanship, but except any defects resulting from improper use of the products.

Lead time
1. Sample orders will be delivered from our factory within 7 days
2. Bulk orders will be delivered from our factory within 15-25 days

After-sale Service
24-Hour Hot Line for Consultancy and Technical Support
Packing and Shipping:
1. Package: Carton Box for packaging or Wooden Box advised for good protect in transportations. Package designed by clients is possible.
2. DHL, FEDEX, UPS, EMS, Air Way and By Sea etc.
4. Sample Order for real-test first available, batch order for OEM/ODM available.
Tag: MPPT Solar Inverter, MPPT Charge Controller, High Efficiency Charger Controller
More infos, contact Foshan Top One Power Technology Co., Ltd
Angel at mobile/whatsapp: +86-13077462532
Click to my Youtube, more inverter videos:
Top One Power (ONE-SOLAR) Experienced inverter factory mainly produce:
Off grid single phase low frequency pure sine wave inverter 12-240VDC to 110/220VAC:350W-30KW(500VA-40KVA)
Off grid single phase high frequency pure sine wave inverter 12-48VDC to 110/220
Off grid single phase modified sine wave inverter 12-48VDC to 110/220VAC:350W-5KW
PWM solar charger controller 12-48VDC:10-60A
MPPT solar charger controller 12-48VDC:30-60A
Marketplace:
| | |
| --- | --- |
| Country: | China |
| Delivery Time: | 15 day |
| Price: | Negotiable |
| Quantities: | 10 |
| Type: | Selling Offer |
Return to overview